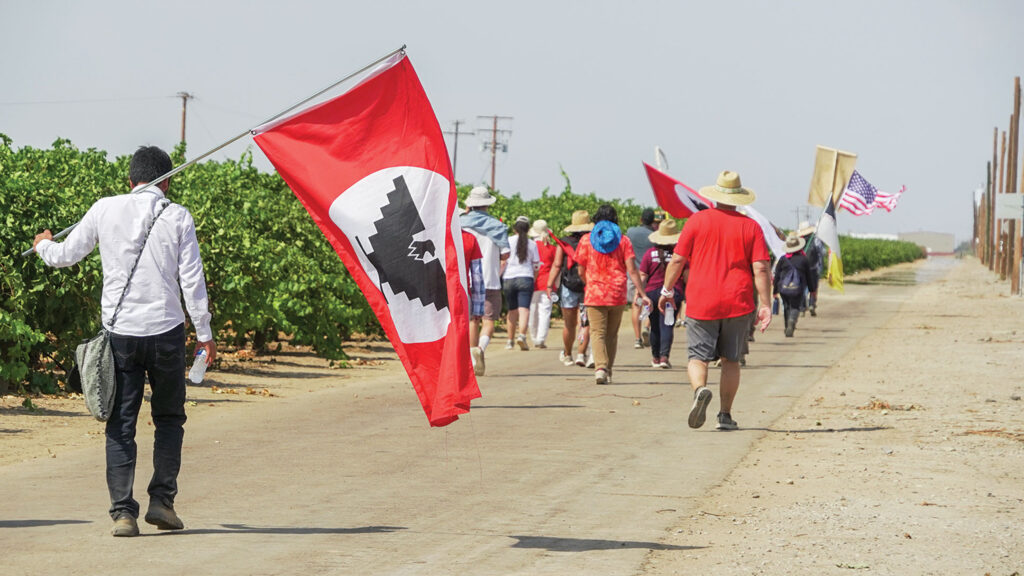 By Mayra Becerra and Olivia Henry
FARMERSVILLE, Calif. — Ivanhoe residents gathered in Farmersville on Sunday, Aug. 7 to cheer on marchers walking 355 miles in support of a bill that would change how agricultural workers choose their union representation.
The marchers, who started in Delano on Aug. 3 and expect to reach Sacramento on Aug. 26, are calling attention to the Agricultural Labor Relations Voting Choice Act (AB 2183). Among other measures, the bill would make it possible to hold a union vote via a ballot card election.
Currently, farm workers must vote in-person at private voting booths, which are usually located at job sites. According to the United Farm Workers, this system amounts to voter intimidation. AB 2183 would allow a labor union to initiate a process in which workers sign a card affirming their desire to be represented by that union. That ballot card can then be submitted in person or by mail to an Agricultural Labor Relations Board office. The ballot card election also allows voters to get assistance when filling out their card.
Less than one percent of California farm workers belong to a union, according to UC Merced researchers. Some of the hurdles to unionization include historical exclusion from labor protections, the seasonal and migratory nature of field work, the structure of labor contracts and workers' immigration status. Those barriers would remain even if the bill passes, but the United Farm Workers argues AB 2183 would at least give workers a sense of safety when they vote — and more flexibility in how they vote.
Marcher Cynthia Burgos, a single mother of nine from Bakersfield, told The Ivanhoe Sol that she believes a union would give her and future generations more power in the workplace.
"I have been through many different situations with managers, from sexual harassment to abuse of authority, and, well, you get tougher every day with those things because you see that there are no changes," Burgos said. "So when the opportunity arises…why not support the cause if one has been through much uglier and sadder things? If it is possible for all of us to have a union and do something that changes all that, why not?"
Burgos said she is looking forward to telling her children about this experience. "I do it for the future of those who come after me. Because I am already 48 years old now, but new generations from Mexico are coming."
Margarita Mora, another marcher from Bakersfield, said she wanted the public to recognize how indispensable farm workers are to every person in the U.S. "Treat us well. We're very humble people with hearts and feelings."
The bill passed the Assembly in May, and is now currently in Senate committees. Organizers are optimistic that the senate will approve the bill and send it to Gov. Gavin Newsom's desk. The governor vetoed a similar bill last year.
For more information please contact Jessica Betancourt, UFW Immigration Campaign Coordinator at 208-301-8675| 208-301-7701 or [email protected]