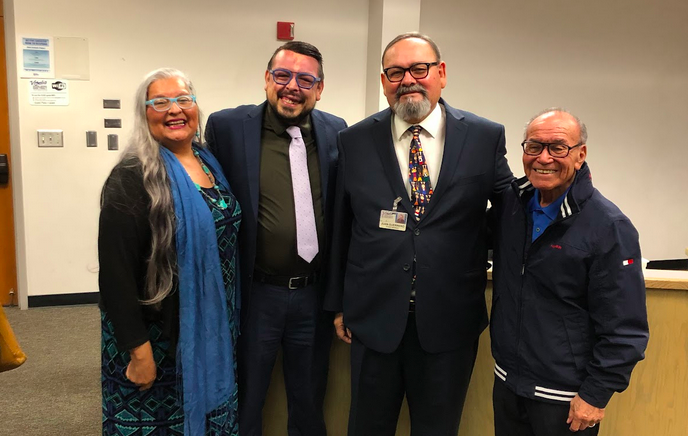 Guerrero was a regular figure in Ivanhoe during 17 years of service
By Mayra Becerra, Ivanhoe Sol
Juan R. Guerrero, the former board president of Visalia Unified School District and the trustee representing Ivanhoe, bid farewell to the district at a special board meeting reception on Dec. 6. Superintendent Kirk Shrum shared a brief overview of Guerrero's time in service, highlighting his accomplishments in the midst of the recession, the COVID-19  pandemic and a cyber attack in 2021.
In a moving event, VUSD board members thanked Guerrero and outgoing Area 4 Trustee Catalina Blair. Board members shared that Guerrero always held his composure and worked to create a team where all voices were heard, even when parties disagreed.
Blair added that Guerrero was someone she could lean on to ask for answers, he was always ready to help. Members of the community from all areas applauded and thanked him for his service.
Guerrero shared that Frank Escobar Sr. and Mike Huggins were his two friends that encouraged him to run for the first time for a seat on the board in 2001. He won and proceeded to be reelected in 2005. At that time, VUSD was at-large and everyone voted for school members no matter where they resided. Today, VUSD trustees are elected by area and the board consists of seven seats. Overall, Guerrero has served 17 years on the VUSD board and served as board president twice.
Guerrero served as the board trustee for Area 2, a district covering the northeastern corner of Visalia and unincorporated areas of Tulare County including Ivanhoe. He was the representative for families with students at  Ivanhoe Elementary, Valley Oak Middle School and Golden West High School.
His legacy in community work spans from youth counselor, classroom training coordinator, branch manager, youth director for four counties, government analyst, community center director, migrant education grant overseer, and gang intervention programs through Proteus. Several of Guerrero's former Proteus colleagues attended the ceremony to wish him well.
In Ivanhoe, Guerrero regularly attended community events such as  Summer Night Lights – even the inauguration of The Ivanhoe Sol newspaper in 2019. Residents describe him as an advocate for Ivanhoe voices during his time on the board.
The November election saw Mr. Guerrero lose his seat to challenger Paul Belt by 237 votes. During the campaign, Guerrero said this race would be his last.