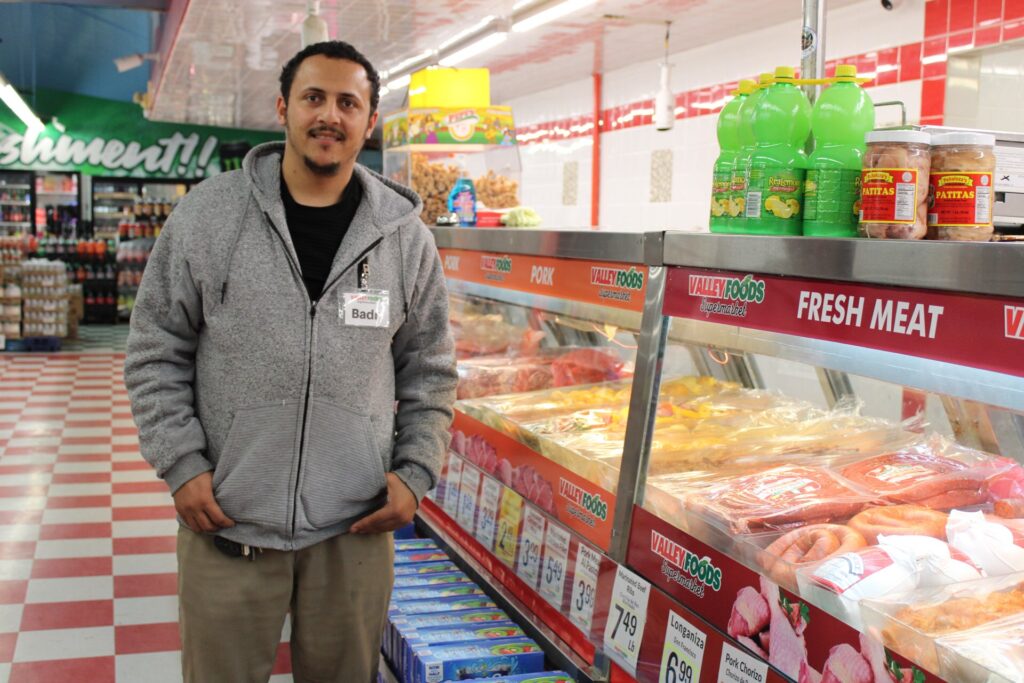 Saleh says he has big plans for the interior and exterior of Ivanhoe's supermarket
By Olivia Henry, Ivanhoe Sol
Can you tell me a little bit about yourself? What does your life look like outside of work? 
I grew up in Parlier, I live in Sanger. We're a big family, and I have five kids. I'm not a very talkative person.
How did you come to buy the market in Ivanhoe? Do you also own other stores? 
[Our family] owns four stores in total. We do own other Valley Foods in Reedley and Carruthers. We've been trying to buy this location for a couple of years. We also operate State Foods Supermarket in Merced County. I manage the Ivanhoe location, each store has another manager [in the family]. My brother is the owner, Naseeb Saleh.
Can you talk about some of the improvements you've made to the store? What else do you hope to do? 
We extended our meat department, it's about 62 feet, before it was only 26 feet. We changed the floor, bought a new deli case, a new freezer and a new produce case. We do have plans coming up next year, God willing. We hope to have a bakery here and to sell pizza. We will hopefully have a tortilla department. We also want to extend the restaurant and make it bigger. We're hoping by March of next year to start construction work.
How do you respond to residents who say the prices at Valley Foods are too high? 
This is a family-owned business and we try to take care of every single customer that comes in and out. We try to make it as easy as possible to shop here, and we encourage people to stay in Ivanhoe and shop with us.
Everything has changed in the past year or so. Everything is very, very expensive. It's expensive for us, too.. We have just a couple of stores, compared to Winco that has hundreds and thousands of stores. It's crazy times right now, especially in grocery, everything is very expensive, not like it was before. Before, it was more simple to run a store and make customers happy. Right now with these prices it's very hard for us to get items in the store. We would order a lot of items and sometimes they wouldn't come. If we order 100 items, only 35 or 30 items would show up. It's not like everything comes when you make the orders.  But we try to have everything, we try to do our best.
We asked community members in the local Facebook group about questions they wanted to pose to you. Several people asked about the meat department, some with good things to say and some not. Can you talk a little bit about how you all butcher meat? And do you have plans to include fish?
The meat is butchered in the store. One of my employees showed me these questions on Facebook, actually. I have three people who cut meat and three people who serve. Everything cut is fresh. We do have fish in the meat department, we sell shrimp, tilapia, catfish and salmon but it's frozen. If we could get them fresh, we would put fresh fish section. I have plenty of space, possibly it would be for the future.
Other commenters asked about curb appeal of the store. People talked about the renovations inside, but asked if you had plans to update the exterior, fix shopping carts with wheels that don't work and tidy the loading area in the back of the store.
We are planning to paint the outside and redo the parking lot. That's our next move. Right now with the holidays, it's our first year being here, we don't know how to be prepared for the holidays in Ivanhoe. We're aiming for January to do outside painting and have more lights at night and redo our parking. The shopping carts are already ordered, it just takes forever.
Are there any plans to expand a bread and tortilla section? 
We're aiming to have a bakery. Tortillas should have their own aisle soon. We want a bakery and tortilla department.
What community outreach or giveback programs the store plans to carry out? 
We did one in August back to school. On December 24, we're doing pictures with Santa and giving away gifts for the kids, and giving away a couple of bikes for the kids.
Where do you see yourself in a few years? Where do you see the market in a few years? 
We're going to be here for a good amount of time. We want to be here for at least 20 years. We're here for good, and we try our best to make the community happy and have everything a grocery should have.
Is there anything else you want people to know? 
I just want to thank everyone for supporting us, and we will be helping the community a lot in the future. If you have questions, people can send us messages through Facebook, Valley Foods Ivanhoe.