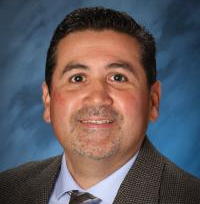 By Dr. Jesus Gonzalez, Ivanhoe K-8 Principal
An important piece to a student's success is the partnership forged between the school staff and families. The idea is that this partnership will focus its energy on supporting school initiatives and school structures that foster success for all students. Success being defined primarily as students feeling safe at school and caring for their social emotional well-being while increasing students' academic learning outcomes in all content areas. This partnership is built on clear communication and trust between both groups, and is most effective when conversations are student centered. The Ivanhoe families are always encouraged to connect with Ivanhoe staff members to discuss ideas that will best serve our students. This can be accomplished by families becoming more familiar with the school's events and activities that increase family involvement.
Since the restrictions that were in place for COVID 19 have been lifted, Ivanhoe Elementary has returned to holding traditional events as well as new ones. So far, we have held many events to strengthen the school and community connection. We started the year with our Back-to-School Night in August where families and school staff were able to meet in-person to discuss the curriculum and instruction that would be taking during the school year. There have been monthly Principal chats that provide an opportunity for the Principal to hear directly from parents about ideas and/or concerns that impact student life on campus. In November Ivanhoe held the first trimester parent/teacher conferences which focused on student learning outcomes and methods of support parents can provide on a daily basis. Finally, the Fall Harvest Carnival saw over 500 attendees enjoy an evening with food and games that brought community members together.
This school year, there is an effort to revive the Ivanhoe Elementary Parent/Teacher Organization, simply known as PTO. The purpose of the organization is "to bring into closer relation the home and the school, that parents and teachers may cooperate intelligently in the education of the children and youth" as stated in PTO bylaws. It also emphasizes the development between educators and the general public that with united efforts to secure for all children and youth the highest advantages in each student's academic, physical, mental, and social well-being. The PTO is open to all families and community members. The PTO welcome's parents to attend their next meeting scheduled for February 22 at 4:00pm in the school's cafeteria.
As the school year continues to unfold, we invite all families to become more involved in their child's education by partnering with Ivanhoe Elementary at future school events and activities. Working together and bringing our individual talents will aid in our desire to have our students succeed in all aspects of their education. Remember that the staff at Ivanhoe work tirelessly to provide the best educational experience possible for each of our students and with family involvement that experience will increase. As always, please reach out to any staff member when you have questions and/or concerns. We hope to see you soon at our next event.