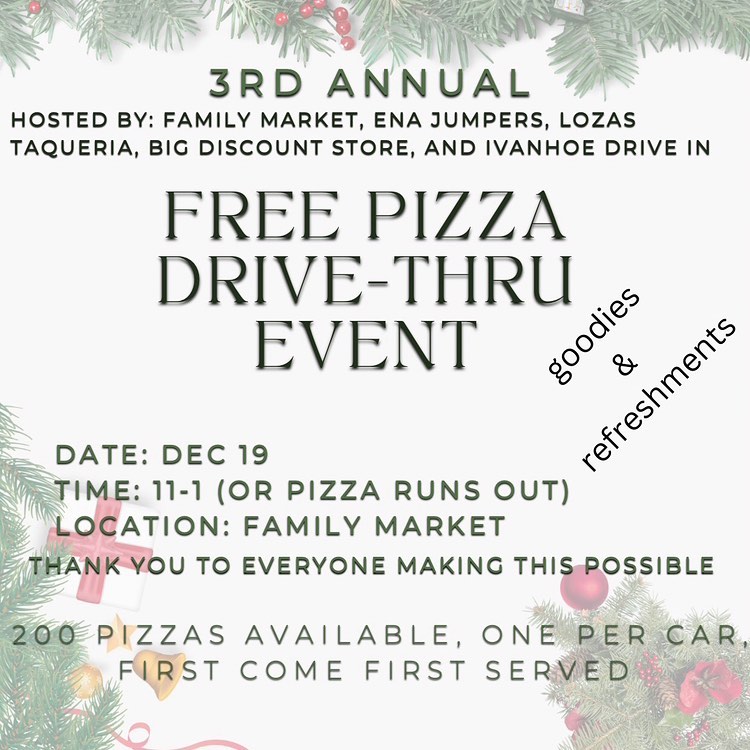 By Mayra Becerra, Ivanhoe Sol
As the year closes we are excited to share what's happening in December for our community.
Toy Give Away
December 17 will be a busy day in Ivanhoe. The Ivanhoe Community Council will be holding a Toy Give Away drive-thru event at the Veterans Memorial Building at 33209 Hawthorne Rd, Ivanhoe, CA 93235. The organization Fathering the Fatherless will be handing out free food boxes and hotdogs. This event will occur from 12 to 2 p.m. or until supplies last.
Worship Center Meet-and-Greet
The Ivanhoe Worship Center is hosting a Christmas in Ivanhoe Meet and Greet on Dec. 17 from 4 to 6 p.m. at 32471 Rd 160 Ivanhoe, CA 93235.  This event will consist of hot cocoa, a stocking decorating table and a small gift for each child.
Pizza Drive Thru
The following Monday, December 19 Family Market, Ena Jumpers, Lozas Taquerias, Big Discount Store and Ivanhoe Drive-In have teamed up together to host the 3rd annual Pizza Drive Thru. The drive-thru will take place in front of Family Market at 32948 Road 159, Ivanhoe, CA, 93235. Last year over 150 pizzas were handed out in a span of 2 hours.
Upcoming Ivanhoe Community Council Meeting 
The next Ivanhoe Community Council meeting will be Tuesday, December 20, 2022, at 6 pm at the Ivanhoe Memorial Building. Residents are encouraged to attend.
Veterans Meeting
The veterans meeting will take place Wednesday, December 28, 2022 at 6 p.m. at the Ivanhoe Memorial Building.