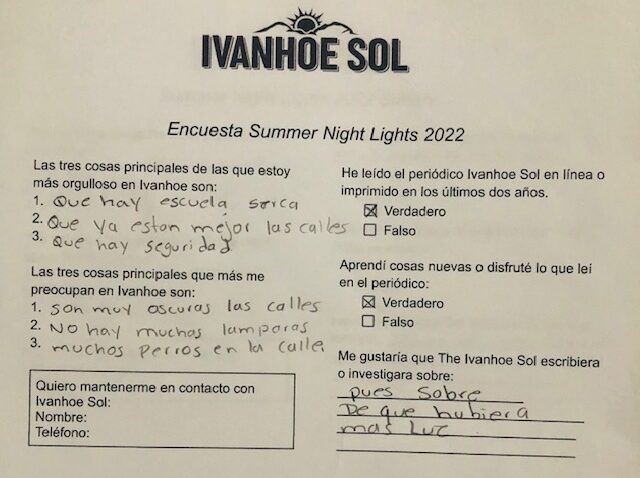 By Olivia Henry, The Ivanhoe Sol
IVANHOE, Calif. — As part of an effort to improve our community journalism, The Ivanhoe Sol newspaper team carried out a survey in-person and online during August. Here are the results of 22 surveys, which we will use to shape our stories in the coming months. Thank you to everyone who participated!
Question 1: The top three things I'm most proud about in Ivanhoe are: 
Friendly workers at stores, how close the stores are to my home, friendly neighbors
Ivanhoe Elementary, having a Family Dollar, bus transportation available
Location
Home, the events for kids, community
Our community,  we're hardworking and always moving forward
The Ivanhoe Council, Boys & Girls Club, events put on for our children
About the program they have for the children after school, that little by little they are fixing the streets, about the Family Dollar that they put up
Community Council, events for children, the roads being fixed
The community, the local vendors, the awesome burger stand
The Ivanhoe Elementary principal, safe school environment
Agricultural, friendly, proud lifetime resident
Small community, surrounded by trees, Ivanhoe Sol & Ivanhoe Community Council
Great community, great get togethers, people are willing to help each other
People, school, community
The gatherings, the newspaper
That there is a school nearby, that the streets are better, that there is security
Small friendly community, hardworking, ag community
Lots of improvements in town, events that rarely happened before, school improvements
Small community, Boys & Girls Club, bailoterapia
The community, local businesses
Ivanhoe school improving, road improvement, polite school employees
Question 2: The top three things that I worry the most about in Ivanhoe are: 
People not having dogs on their leash or backyard, violent people, always drunk people
General safety, school safety, when more stores will be available
Gangs, nothing for the youth, no police takes too long
Violence, the dogs that run loose, street lighting
We don't have enough resources, hoping change would come quicker, need more jobs
There is a lack of a police department, that they fix lights that are washed out, that they put cameras in the Boys & Girls Club stop — it is dangerous because people do not make a stop.
Not sure
Gang activity, graffiti, careless drivers
Gang activity
Law enforcement presence, youth center, community engagement
Youth involvement, family events
Not enough youth activities
Streets not safe, cars going too fast
The streets, public lighting, loose dogs
The streets  are very dark, there are not many lights and there are many dogs
Law enforcement presence, safe and lit streets, air quality
Doesn't seem to grow as a town
Its security, its abandoned streets,  lack of jobs
Gangs, child safety, family outings
Little to no law enforcement, gangs with the youth, lack of infrastructure
Not having enough activities, Ivanhoe not improving
Question 3: I have read the Ivanhoe Sol newspaper online or in print in the past two years. 
True: 77%
False: 23%
Question 4: I learned new things or enjoyed what I read in the newspaper:
True: 82%
False: 18%
Question 5: I wish The Ivanhoe Sol would write about or look into: 
Current events
Not sure
Local stories in Ivanhoe, Visalia, Woodlake or Farmersville
Connecting Ivanhoe to more resources
Current events
Ivanhoe school events. A Little Caesar's in town would be ideal.
History or do a one-on-one interview
Positive and uplifting things like it does
Our past needs a museum
History of the town
About the Boys & Girls Club because there are always many children and it is dangerous
The impact of local agriculture
Recognition for positive accomplishments
Crime in town
How you are helping our community
Well, about there being more street lights
Effects of spray/chemicals to Ivanhoe
Support or programs for children with disabilities, as well as immigration issues
More recognition