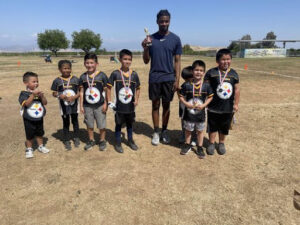 By Mayra Becerra, The Ivanhoe Sol
Ivanhoe's Flag Football youth program began in 2019 but experienced a pause like many other events due to the height of the COVID-19 pandemic.
This is the second year that the Tulare County Sheriff Office PAL hosted the Flag football program and the games have been an important opportunity for building community while being outdoors.
The flag football program is open to students from grades Kindergarten through 8th grade. This year there were three different age groups: the PeeWees (Kindergarten -2nd grade), Juniors (3-5th grade ), and the Seniors (6-8th grade) each playing against others their age.
Coaches for this program are all volunteers. Some live in Ivanhoe and others are part of the broader Ivanhoe community coming from the College of the Sequoias football team, the Explorer Program and some of the sheriffs led by Kendra Snowden.
The first games were held Saturday, March 12 at the football fields behind Ivanhoe Elementary. This year, fewer players signed up than the first year, and teams have had to help each other to play.
Playoffs were held April 29 at 5:30 p.m. at the football fields in the back of Ivanhoe School. The games will be short 30 minutes since some teams will play multiple games that night. The playoffs were immediately followed by the championships series on Saturday, April 30.
At the end of the season, the winning teams for each age group  were the Steelers (Peewees), 49ers (Juniors) and 49ers (Seniors).