By Mayra Becerra, Ivanhoe Sol
Local farmer shares citrus farm with the community
Located near Ivanhoe along State Route 216 on Road 164, Farmer Bob's World grand opening was a huge success. The man behind the dream, Bob McKellar was very welcoming.  
The opening ceremony kicked off a great event. The event had scheduled tractor tours, kid's crafts, orange picking, live animals, and ongoing performance from the musical group, Rosalinda and the Pims.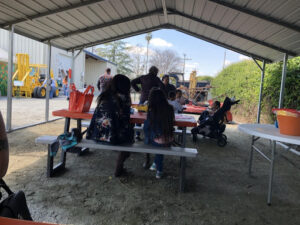 (Ivanhoe parents and children partake in educational activities. Photo: Mayra Becerra, Ivanhoe Sol)
Farmer Bobs World has something for everyone. For the younger children, the animals, interactive windmill, crafts,  and tractors offer many options for entertainment. Children also enjoyed the opportunity to learn how to pick oranges, from putting on gloves learning how to properly pick an orange and then doing it first hand. Children could be seen smiling and enjoying the different sites.
For the adults, there was great food from QueConcha and Balisongbbq in addition to a small farmers market with an assortment of options. The tractor ride tour was interactive and very informative. The tour guide Mrs. Brown knows her history, although she had a speaker and intercom with pre-recorded announcements, she engaged intimately and shared her knowledge with passengers.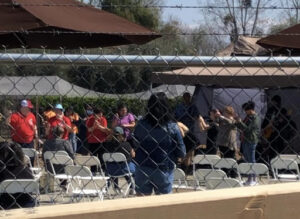 (Rosalinda and the Pims, along with Students performing in sign language. Photo: Mayra Becerra, Ivanhoe Sol.) 
Rosalinda and the Pims along with some of Rosalinda's students prayed in American Sign Language for Farmer Bobs World. This was an amazing experience for the audience, very touching and moving.
This is an awesome addition to our town Ivanhoe. This is the perfect place for local class field trips. Students learning about the life cycles of plants can learn about the local citrus and the years it has taken to grow them.