Ivanhoe Sol Esmeralda Garcia
Schools opened back to full-time ,in-person learning at Visalia Unified School District on Thursday, August 12th for all Visalia Unified School students. The Ivanhoe Sol interviewed local students and families to capture their thoughts, feelings and experiences on returning back to school while COVID cases continue to rise.
Although Visalia Unified School District opened up for half day, in person learning for some of their students onMar 28, 2021students are now on a regular full-day schedule. 
Many students such as Kevin , a high school student from Ivanhoe, is shy according to his mom Lisa but he is happy to be back in person with his teachers and friends. Kevin shares that he fears getting sick and having to attend school online. Although Kevin had to figure out locations of his classes and disliked wearing a mask during PE, he practices safety and enjoys being back in person.
Another high school student from Ivanhoe, who is in 10th grade is glad to be back to in person learning because she struggled with online learning. This student's mother shares that she has elderly parents at home so it is important to get vaccinated and tested when possible. Mom also shares that she hopes that the COVID vaccine becomes a requirement for the safety of our community. "Having a sixth grade son and a daughter in high school I just pray God helps keep them safe and I encourage them to wash their hands often. I also feel we should all be wearing masks."  
Vaccinated Mother and daughter each chose to get vaccinated during Ivanhoe's last Summer Night Lights event that was held at Boys and Girls Club on Thursday, Aug 5, 2021. This vaccination clinic was available for children ages 12 and up from 6-8PM.The second dose was just given on Thursday, August 26th. They did not have any side effects, other than a sore arm and hope other community members consider getting vaccinated.
There were a total of 34 Pfizer vaccines administered in two hours and a staff member shared that it was an amazing turnout compared to all day events where they have had  an average of 2-6 patients. 
Testing Site at Ivanhoe Memorial Hall Provides Resources for Returning Students and their Families
The recent surge in Tulare County COVID-19 his being felt in Ivanhoe. According to recent County data, over the last month there have been eleven detections of COVID-19 in the community.
The Ivanhoe Memorial Building has served as an essential resource for supporting residents in the pandemic. Their partnership with Tulare County health staff has increased access to vaccines and testing with the community.
 Testing site staff at the Memorial Building confirmed that there has been a great increase in COVID-19 testing since the beginning of the school year. For example, the Testing Administrator shared that there were an average of 20 tests administered per week before school started, consisting mostly of adults.
Since the beginning of the school year there has been an increase in overall testing with a change within the composition of people being tested. For example in the last week, COVID there have been an estimated about 100 tests administered and at least half have been under the age of 18.
The Tulare County Health and Human Services Agency recently shared an announcement that "nearly all COVID-19 cases in this area are due to the highly infectious Delta variant."
County Public Health Officer Karen Haught says, "It is imperative for everyone to get vaccinated as soon as possible to decrease the spread of this highly infectious Delta variant and stall any potential for another COVID-19 variants to mutate and develop in our community." She continued, COVID-19 hospitalizations have drastically increased, our local hospitals are at full capacity, health care workers are significantly strained, and medial resources are limited. We all must do our part to decrease the spread of COVID-19 by getting vaccinated and following public health guidelines."
Ivanhoe's testing site is open for anyone seeking testing. Its business hours are from 8AM to 8PM, Monday through Friday. No prior appointment is needed, but it is highly recommended to complete patient information online, prior to visiting the testing site. You can register and complete needed information on LHI.Care/covidtesting. 
Recent data has also shown that unvaccinated people have higher rates of hospitalization, addminatnace to the Intensive Care Unit, and of death. Out of a total 290 patinents hospitalized, 252 were identified as unvaccinated. Additionally, of the 52 patients admitted into the intensive care unit 51 were unvaccinated. Regarding reported deaths, 10 of 11 people were unvaccinated.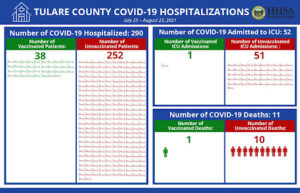 Tulare County COVID-19 Hospitalizations, July 25-August 25, 2021. Photo: Tulare HHSA.
Per California Department of Health Guidelines face coverings are not required if you are fully vaccinated but are still encouraged due to the possibility of "breakthrough" cases. If you are not fully vaccinated, you are required to wear a face covering unless you meet one of the following exemptions:  
Persons younger than two years old  

Persons with a medical condition, mental health condition, or disability that prevents wearing a mask  

Persons who are hearing impaired, or communicating with a person who is hearing impaired, where the ability to see the mouth is essential for communication